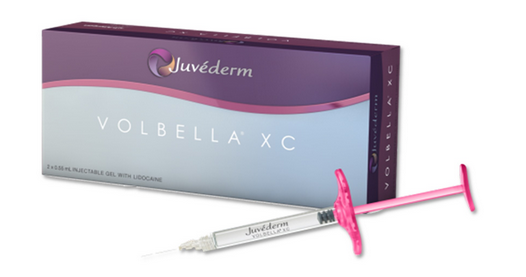 Just as the skin starts to wrinkle, sag, and otherwise degrade as we age, the lips start showing the signs of age over time too. Whether you once had lush, full lips that are becoming thinner, or if you have never been satisfied with the shape or size of your lips, your options to change that are plentiful. Facial Aesthetics By Andrea offers several dermal filler lip enhancement options, the latest of which is Juvederm Volbella. This is one of the latest injectable lip augmentation solutions to be approved by the FDA. Made available for use in the U.S. in October 2016, Juvederm Volbella is transforming the way in which we enhance our lips. This specially formulated dermal filler is designed to add fullness to the lips, improve lip symmetry, and reduce the signs of aging around the mouth.
Thanks to its smooth gel-like consistency, Juvederm Volbella can also effectively contour the lips to transform their shape and overall appearance., Juvederm Volbella also utilizes Allergan's proprietary Vycross technology for enhanced longevity and more natural results. A versatile and effective injectable, this filler also contains a small amount of lidocaine to minimize the minor discomforts sometimes associated with treatment.
Juvederm Volbella is used to:
Add fullness and plumpness to the lips.
Produce results that last for up to a year.
Provide gentle contouring for the correction of lip asymmetry.
Soften the appearance of fine lines that often appear around the mouth as we age.
Produce natural-looking results that are so subtle that no one needs to know that you had the procedure in the first place.
Open Hours
All treatments are by appointment only.
Mon – Fri by appointment
Sat. by appointment (limited hours)
Please call us to set up your next appointment.