Only HydraFacial uses patented technology to cleanse, extract, and hydrate. HydraFacial super serums are made with nourishing ingredients that create an instantly gratifying glow in just 3 steps:
CLEANSE + PEEL
Uncover a new layer of skin with gentle exfoliation and relaxing resurfacing.
EXTRACT + HYDRATE
Remove debris from pores with painless suction. Nourish with intense moisturizers that quench skin.
FUSE + PROTECT
Saturate the skin's surface with antioxidants and peptides to maximize your glow.
Enhance your Hydrafacial experience!
Boosters
ZO Rozatrol Booster

Helps with visible signs of red, sensitized skin
Detoxifies skins
Replenishes hydration and supports healthy skin barrier function
ZO Brightalive Booster  

Reduces appearance of brown spots
Evens skin tone
Prevents new pigmentations from forming
Hydrafacial Dermabuilder Booster

Reduces the appearance of fine lines and wrinkles
Enhances elasticity
Increases Skin Firmness
Enhances skin tone and texture
LED Light Therapy
Red Light Therapy 
Stimulates blood circulation
Decreases skin inflammation
Blue Light Therapy
Targets and disrupts acne bacteria
Improves the appearance of oily congested skin
Lymphatic drainage, Lip and Eye Perks coming soon!
Rethink Your
Skin Health
There are plenty of plans and programs out there, but they can be a little confusing. So, we reached out to nearly 1,000 experts and consumers to hear how they addressed skin health. We compiled the results and developed the first-ever skin health pyramid – an easy-to-follow guide to build your regimen and get better skin health. There are four simple layers:
Annually
Monthly/Quarterly
Daily/Weekly
Always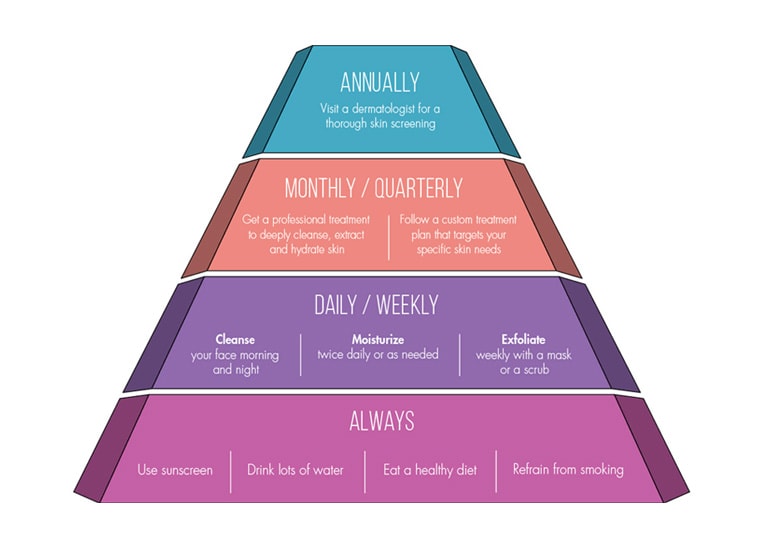 Call us today to schedule your free consultation
About us
Come in and our therapists provide the perfect treatment. Our treatments are specially designed to help you achieve your perfect look
Open Hours
All treatments are by appointment only.
Mon – Fri by appointment
Sat. by appointment (limited hours)
Please call us to set up your next appointment.